Click on the instrument you are more interested in:
Or book immediately your free intro session:

Or call direct 780 637 0513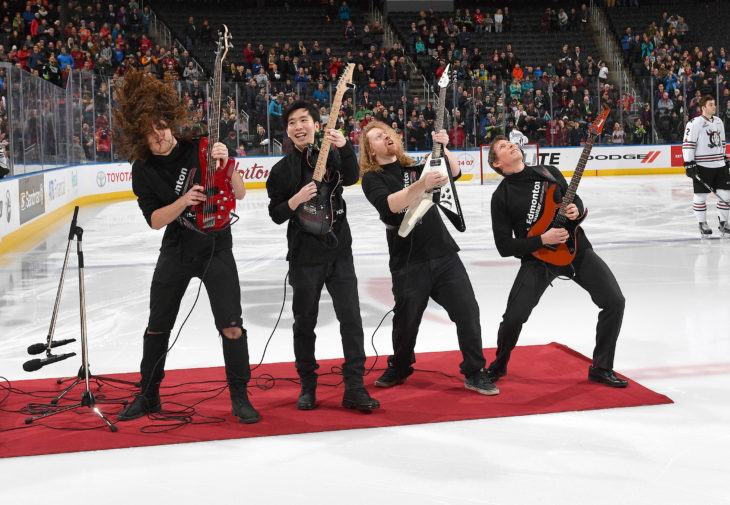 Our team of students playing the National Anthem at the Roger's Arena before an Oil Kings game. You could be part of the next team!
We are the only music school in Edmonton to have the Elite Guitar Teachers Inner Circle seal that guarantees the highest quality for your lessons
We Are Here To Help YOU!
Watch our student Rio performing the Canadian National Anthem on electric guitar at the Rogers Arena in front of more than 12.000 people before an Oil Kings game.
Are you frustrated with your current level of musical skill?
Are you just getting started with playing/singing and want to become good in a short period of time?
Have you tried to teach yourself with books or YouTube videos and you are getting nowhere?
If you want to become a better musician or simply want to start playing/singing, and live in the Greater Edmonton area, you have come to the right place!
I know how you feel: I too was once frustrated with my musicianship. What I found is that under the expert guidance of a great music teacher you can dramatically improve your skills in a short time.
My team of teachers and I are here to help you. We are going to give you the lessons we wish we had when we were at your level!
Acoustic and Electric Guitar lessons, Piano lessons, and Voice lessons in Edmonton are available right now. Beginners and advanced students are both welcome!
Reach Your Goals!
"Now when I'm at home playing I don't just sit down and do the same thing that I did for the last two years."
Adrian A
Here at the Edmonton Guitar Music School e have helped many people just like you reach their musical goals, in ways they never thought possible.
Imagine being like your music heroes. Imagine being able to play the music you want and write your own songs. Imagine being able to step on the stage with confidence. These are all realistic goals! Don't let them be just a dream. We can help you reach these goals, and then excel beyond that!
We will prove to you, as our students have found already, that effective learning methods delivered to you at the right time and in the correct way will bring you closer to your goals!
"I've become more confident, I feel that my instructor teaches at my level, and a little bit above my level, I feel challenged but still feel confident in my playing."
Gabriela C
We are so confident we can help you with your playing, that we are offering you a free no-obligation introductory session. That's right, all you have to do is come to our studio, and we will do the rest.
So if you are in the Edmonton, St. Albert, Sherwood Park, Capilano, Stony Plain area and you want to play Guitar or Piano, or want to be able to sing, click on the button below to book your free session and finally get started on the right path to music mastery! With us you are going to get:
A first FREE session (to all first time students) so you can get to know us and what we can do for you without risk.
Multiple music lesson formats available so that you can pursue your own personal musical goals in the way that best suites you even if you work shift hours! (ask us how)
Professional dedicated teachers who use the most modern methods to guarantee you the best possible results with the minimum effort.

Are You Getting Value For Your Money?
Here is what our team of teachers does differently to help you become the musician you can be, compared to normal music lessons from other local teachers.
 
 
What You Can Expect From A Normal Music Teacher:
What You Can Expect From Your Music Lessons With Us:
 
 
 
How will I find out what I want to be able to play/sing and what I need in order to reach my goals and do music the way I want?
A normal music teacher will just ask you what styles of music you listen to and what songs you would like to learn. Then they will just teach you these songs, or worse, they will just ask you "what do you want to learn today?".

A normal music teacher will not target your weaknesses in order to resolve them, or your strengths in order to reinforce and expand them: they will just show you more songs hoping that you magically become a better musician.

We will set up an initial free introductory session for you. During this initial session we will interview you and assess your present musical skills, your ultimate goals (you might be surprised!), and what you need in order to take the next step, or to simply get started if you are a beginner.

We will have a written plan that focuses on YOUR needs and goals, and then we will consistently follow it in your lessons together.

How will you help me overcome the problems and frustrations I have with my music skills?
A normal music teacher has no plan for you. He will teach you from lesson to lesson, often "winging it" ("what do you want to learn today?") without a real long-term strategy to solve your REAL guitar playing problems.
We will set up a plan, with expectations and deadlines from the very first session, tailored to your specific goals and needs in order to effectively solve your musical problems and build on your strengths.

We will continuously refine the plan by keeping track of your progress and frequently revising your goals.

Do you offer any additional learning opportunities outside of "normal" lesson?
An average music teacher will just give you a 30m frontal private lesson. He will not bother with other formats.
Not only do we offer a range of different lesson formats to suit your individual needs, we also regularly organize thematic workshops and practice sessions. Workshops are great opportunities for you to expand your knowledge and focus on specific aspects of your music.
How can you help me make sure that I am practicing in the most efficient and effective ways between my lessons?
An average teacher will just tell you to practice more - or simply never address the topic of how to practice!
We will show you in detail how to practice every single exercise we give you so when you go home you will know EXACTLY what to do. By knowing HOW to practice and WHY to practice specific exercises you will save a lot of time in your practice, which translates to more results with less effort!

You will also have access to the private area of our website that contains video lessons about practicing and other material that will help you organize your practice time

Will you travel to my place and teach me in my house? If not, I have a teacher living just around the corner, so why should I bother to come to your place?
Average teachers come to your place because they do not have many students, and want to get more experience teaching. They will do ANYTHING to make you their guinea pig - and have YOU pay for it.

Some of the more inexperienced teachers will come to your place just to hide the fact that they do not have access to a studio!

As all serious professional teachers, we teach from our studio and not from the student's house.

Our students come to see us from all the greater Edmonton area (St. Albert, Sherwood Park, Fort Saskatchewan, Stony Plain). We have students regularly visiting us from as far as Vegreville and Wainwright! All these students find that the value and quality we provide in our lessons is more important than the minor inconvenience of driving to our studio.

Also, we are centrally located in an area well-served by public transportation and with available parking space.

As a great player once said: "an hour spent driving to a great music teacher will save you 10 years of frustrations with the instrument". Which one would you rather have?

I am looking for the cheapest teacher around! Surely your lessons are not expensive?
Average music teachers do not have many students and the only way they have to attract you is to have very low rates. The cheapest teachers tend also to be the less experienced ones and they will often teach you the wrong things or foster bad habits (We know because their ex-students come to us and we have to fix their mistakes).

All the money you spend with inexperienced teachers is money down the drain.

We FIX the DAMAGE that cheap music lessons and average music teachers cause to their students. Great music teachers are always in demand and require a fair payment for their services, and in return they give you the best learning strategies and the results you are expecting.

This does not mean that a good teacher is expensive: we have many different programs to accommodate students on any budget, and you can be sure that you are making a sound investment with us. However we definitely are not the cheapest option around.

If you are sick, you should not choose the cheapest doctor you can find. In the same way, if you want to get better at playing/singing you should not choose the cheapest teacher. For more info on how a quality teacher can SAVE you money, download this guide on choosing the right music teacher.

How can you prove that your teaching strategies are effective?
Most teachers cannot do this: they do not even HAVE a teaching strategy! They may know something about music but they never really studied how to TEACH an instrument.
We have taught many satisfied students over the years. You can make sure of this by clicking on the videos on this page or by visiting our student testimonials page to hear our students playing and listen to their learning experience with us.

Also, unlike most music teachers we constantly work on improving our pedagogy and our teaching skills. Our chief instructor is a member of the Elite Music Teacher's Inner Circle Program run by the World's most successful on-line music instructor Tom Hess, and this keeps the whole team on the leading edge of music teaching
10 Ways We Will Make You Become A Better Musician
"I look forward to coming to lessons, and I always feel like I've learned lots, and I find playing with other people is quite energizing. I've learned lots of tips and techniques to help advance me forward every lesson."
Jennifer Z
You will learn to play your instrument up to 10 times faster than on your own (seriously). No more feeling stuck!
You will get instant feedback on your playing, and live demonstrations of the correct techniques. No more guessing if you are doing the right thing!
You will learn how to practice effectively. Gain maximum results with minimum effort!
You will be trained with innovative and effective methods not available anywhere else in Edmonton. Learn from the best!
You will meet with other like minded musicians to share ideas and further your passion. No more feeling like a solitary "bedroom player".
You will be motivated by seeing the results you are getting. Feel excited learning once again!
You will play and jam with other musicians. Music is a team sport! Keep it real!!
You will be challenged by a carefully graded progression of exercises and activities. The learning curve will feel easy and you will improve at a great pace.
You will get the support and encouragement you need when tackling difficult techniques. You can do it!!
You will save TIME and MONEY that would be otherwise wasted in purchasing books, DVDs, online courses, or taking lessons from mediocre teachers and then trying make sense of them by yourself.
Why Should You Take Guitar Lessons Now?
"I had some books at home, and I didn't know what to do, I just stared at them, as soon as I went in for lessons, it was amazing. I didn't know if I wanted to take lessons, once I went to my first class I knew: 'Yes, This Is Right For ME!'"
Monika P
You should start taking guitar lessons right now. Why? Because:
You will feel more inspired and motivated, and this will make you improve faster!
Taking lessons will make you more confident as a guitar player and as a person.
Your guitar skills will become the envy of all your friends :-)
You will learn to overcome stage fright in a gentle, non-traumatic way.
You will get to know many other people with the same passion as you.
You will finally be able to play the songs that your guitar heroes play.
Because Music is the best hobby you can have. It's the gift that keeps on giving.
Because MUSIC IS FUN!!
Don't wait any more! Click on the button below to book your first free one-on-one session and finally start becoming the guitar player you dream to be!

Still Unsure?
Download this free guide on how to choose a great music teacher